Instinct Fitness – CrossFit Thorndon – CrossFit
Warm-up
Warm-up (No Measure)
3 rounds

200m run

15/12 cal machine

20m Walking lunge

10 Lying Windmills
Metcon
Metcon (Time)
5 Sets

500m Row at fast pace

250m Row easy pace

*no rest between sets
Refer to image below for distance conversion on other machines
WORKOUT NOTES
Today we have a conditioning workout aimed to help develop your 2km row pacing.
The fast 500m row should be at your 2km PR pace, this is not a sprint.
The 250m easy pace row should take the same amount of time or slightly less than your 500m.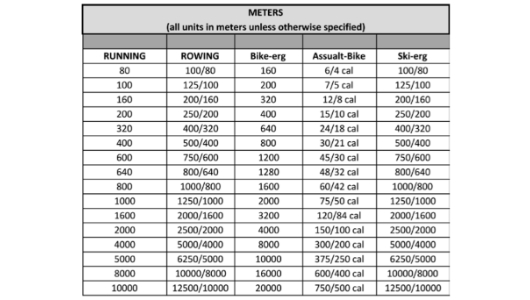 Gymnastics
Metcon (AMRAP – Rounds and Reps)
Accessory
12 min AMRAP

12 Strict HSPU / Shoulder Press

12 Bent over row
NOTES
This AMRAP is for QUALITY. Go for bigger sets and rest between movements rather than doing "quick singles" just to get a better score.